What's included in the paid room rental?
Scheduled/guaranteed access to the party room
1 dozen standard cupcakes from our daily menu
or 2 dozen mini cupcakes from our daily menu
Room rental for 2 hours (additional time may be available upon request)
Table & chairs next to our colorful flower wall
Space for approximately 15 people
PS – remember, room rental is only available at our 57th & Bridges location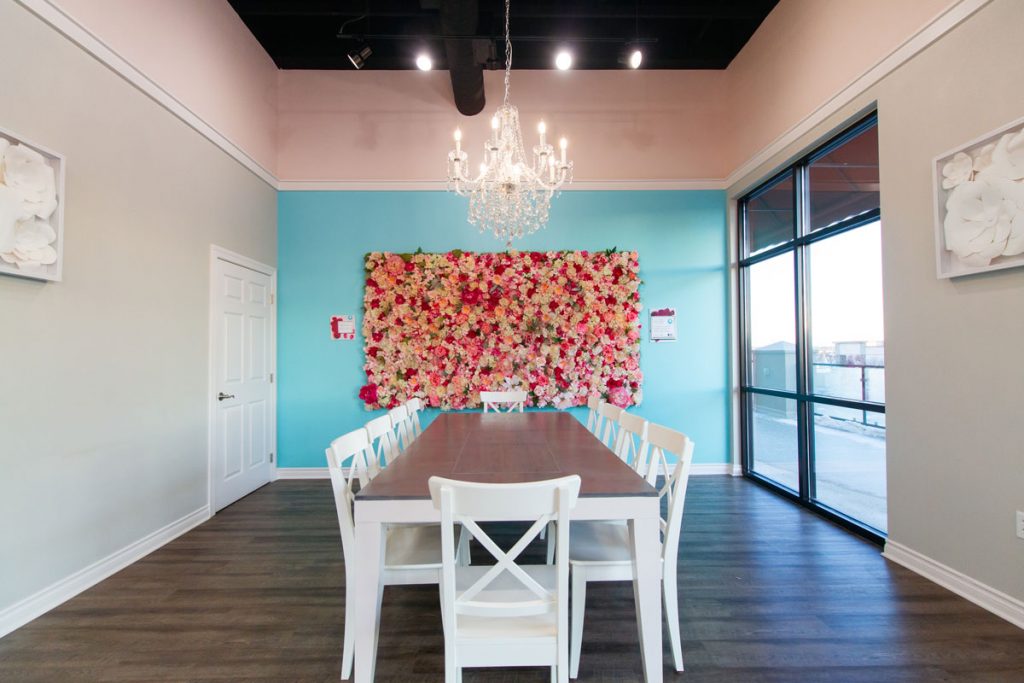 What else is available?
We offer dairy fresh milk, fresh brewed coffee by the pot or by the cup, and a variety of sodas in vintage glass bottles. Additionally, we have lemonade in large dispensers for your party guests, which may be purchased for your party or group. Inquire for pricing. That's it! Cupcakes and beverages and you can enjoy your party time here. We sincerely want this to be a place that family and friends gather.
Can we use your party room for our meeting or Bible study or book club or ... ?
Yes! We are delighted that our 57th & Bridges home has a party room which can allow for small meetings and gatherings of many types. It is our sincere hope that Bible studies, small groups, book clubs and groups such as this will meet and build relationships within our cupcakery's walls. What an honor! Our semi-private party room has seating for roughly 12-15 people.
With small gatherings such as a weekly group, our policy is as such: The room may be reserved up to one week in advance, as long as there is nothing else on the calendar. (For instance, if your group meets every Monday at 5 p.m., you will need to reserve it each week for the upcoming week.) If we have a "paying" event such as a shower or birthday party schedule prior to your group reserving for the upcoming week, we will be sure to let you know. There is no charge and no minimum purchase to reserve our room for small gatherings such as book clubs or bible studies, just let us get you on the calendar, come on in and enjoy our space. (We bet you'll grab at least a cupcake or two while you're here!)