Another of our pre-planned stops on what I have now lovingly dubbed the "European Tasting Tour" (because "no carb left behind" just didn't have the same ring to it) was Laduree.
Purveyor of macarons, sweet treats of all kinds, and a tea service that blew my mind, Laduree originated in Paris but now has locations in Paris, London, and in the chic SoHo district of New York City. I feel like I may sound like a broken record now when I say: the store was breathtaking, the sweets were over-the-top, the presentation was divine.
Yep, Laduree was another of those incredible destinations. A feast for the eyes, the Laduree we visited was in the ground floor of Harrod's, and was breathtaking. Chandeliers. Richly wallpapered walls. Opulence.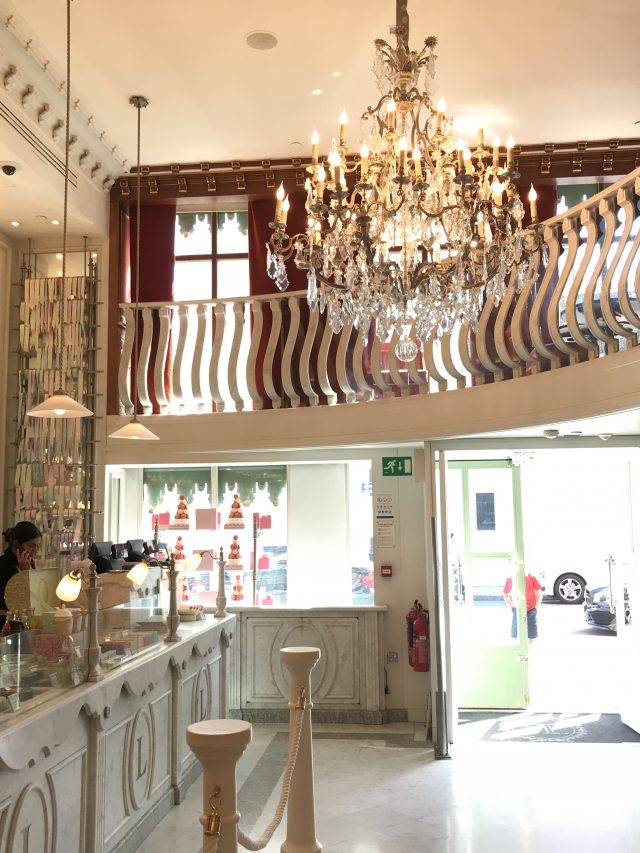 There was a girl sitting two tables over who must have been about all of thirteen years old and was wearing Givenchy sunglasses and carrying a Fendi bag. The long-legged girl at the next table over had trendy grey-bleached hair, a short black sheath dress paired with 5″ stilettos, thick lipstick the color of crushed berries and precisely-winged black eyeliner. She must surely have been a model.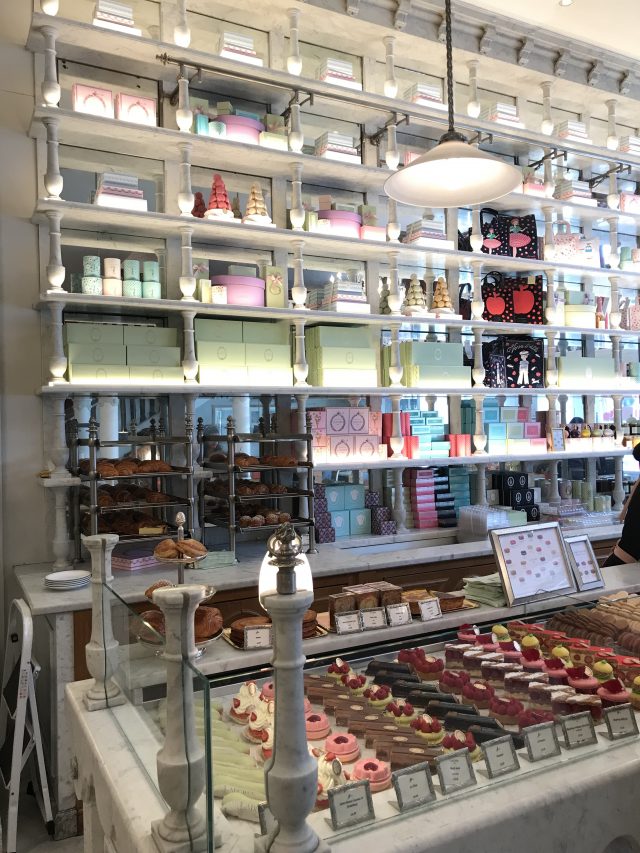 We ordered the full tea service, and sat waiting for it awkwardly. What kind of conversation does one make in a place like this? I wasn't sure, but I didn't think any words I would have to say would be worthy of the opulence surrounding me. Everything I wanted to say felt out of place and loud.
Our food arrived and it was wearing clothespins. I am not kidding. Perhaps this is a routine thing with fancy food, but for me it was all new.
My food is wearing clothespins. I can't!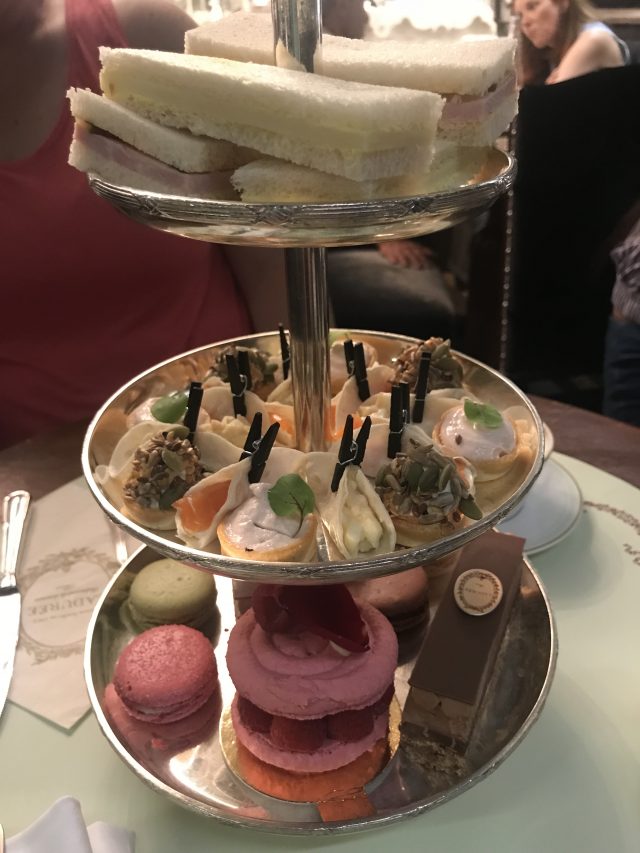 I was certain of little more than the overwhelming feeling I had that I was completely out of my element. This was an important realization for me because, while I wish to create an environment at Oh My Cupcakes! that's aesthetically pleasing, beautiful, extra special, I also wish to create a place where people feel welcomed. Where they feel our hospitality and never feel out of place. Interesting observation.
This box of macarons can be yours for the low, low price of 680 pounds. Roughly $800.
Was the tea service incredible? Yes. Were the macarons some of the best I've ever had? Yes. However, they STILL did not top CH Patisserie here in Sioux Falls. Nope, Chef Chris still has the "best macaron" on lock, in my opinion.And while I love when people walk in and ooh and ahh at the beautiful environment that is Oh My Cupcakes!, I love it equally as much when we host my dad's black-leather-clad motorcycle club brothers on Veteran's Day. It is our hope that we've created a place that's a feast for the eyes, but also one where everyone feels like they belong. It's led me to create an Oh My Cupcakes! manifesto, which will be in a separate blog post.
Laduree was certainly worth the stop, but what I gleaned from that visit was worth more than any sweet pastry creation. It was a lesson in humanity, in emotion, and in belonging.