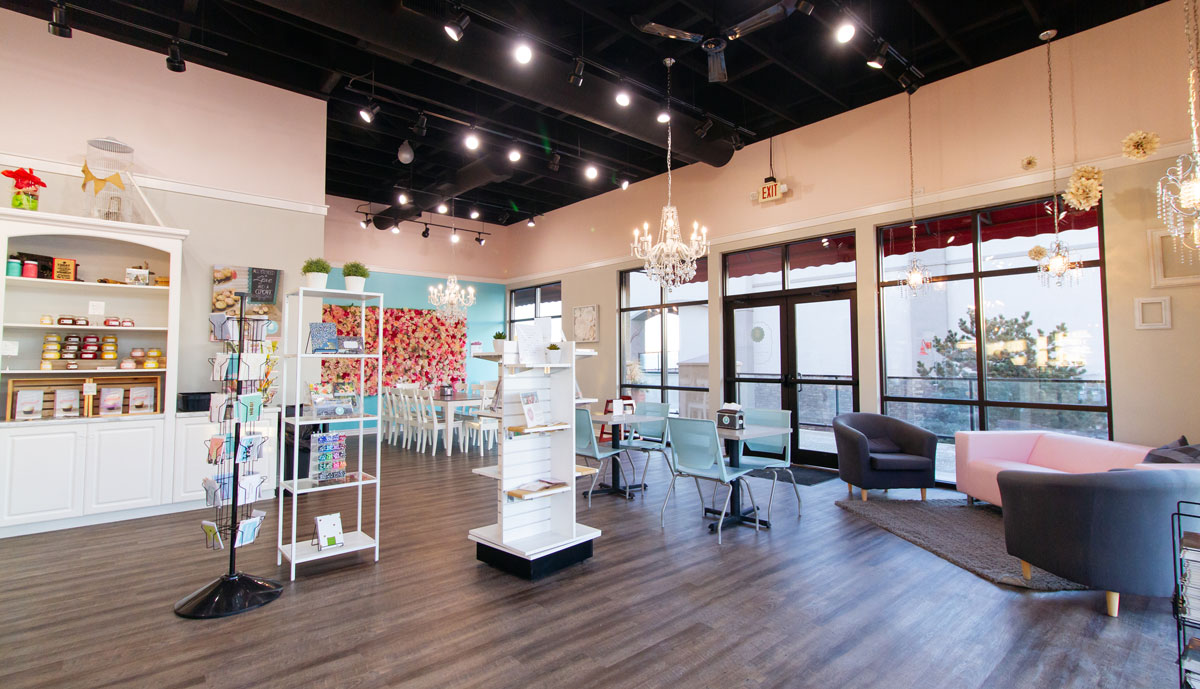 Our Story
This is the story of a place where people come to experience moments of joy. A space where troubles are left at the door and families connect over smiles and frosting. A warm and welcoming atmosphere that feels as much like a dream as it does reality. A cupcakery that has been described as giving the feeling of walking into someone's living room and sitting down with friends over a cupcake and a cup of tea. But like, a really enchanting living room where you want to gaze around in wonder at the magic being woven all around you. Your eyes dance over soft florals and sparkling chandeliers. You find yourself in an aromatic embrace of freshly baked cupcakes. Breathe it in. Enjoy. You belong here.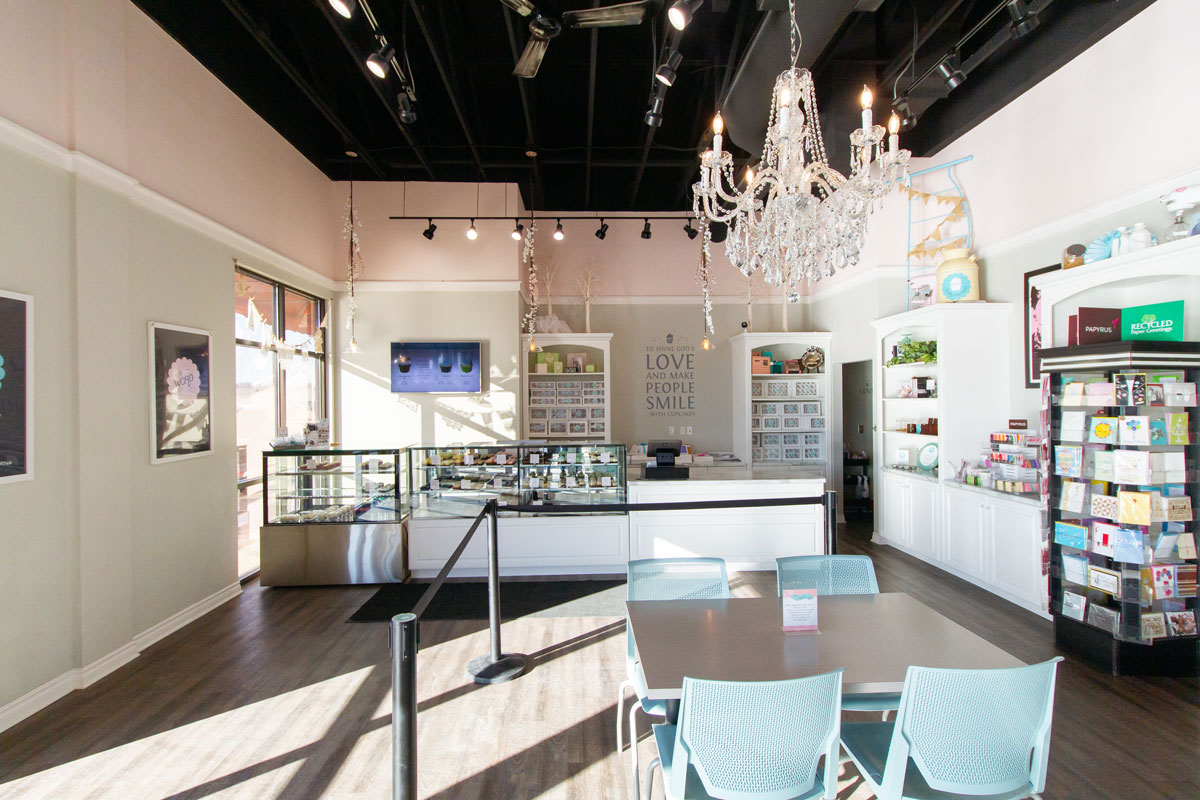 More than any of that, when you walk through the doors of Oh My Cupcakes! you're welcomed with genuine smiles and greetings; the kind of smiles that reach people's eyes. The kind of welcome where you know you're in just the right place at just the right time.
When you walk through the doors of either Oh My Cupcakes! location, you are home.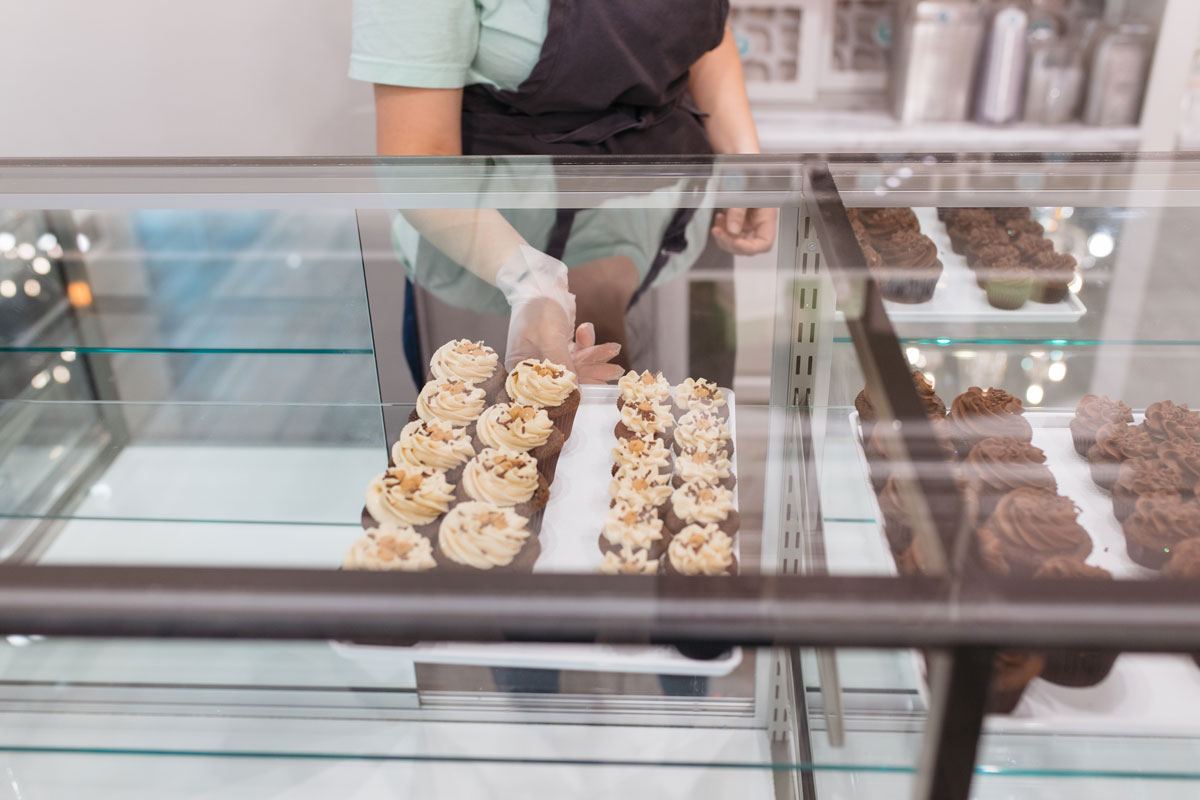 The Backstory
South Dakota got their first taste of cupcake love in August of 2009 when Oh My Cupcakes! began baking delicious cupcake treats from scratch, with love. However, our entrance onto the scene wasn't the "sweet ride" you may have imagined.
Our founder Melissa was fueled with a beautiful, grand vision, but backed by a pitifully small bank account. And, 2009 was an era marked with fear, as our national economy was in a steady decline. People were losing jobs, companies were failing, and banks were pretty hesitant to lend money. Instead of a warm and welcoming space with sparkling chandeliers and delicate floral accents, Oh My Cupcakes! began in a commercial kitchen space sandwiched perfectly between a bowling alley and a liquor store. It may not have been pretty, but it was functional, and Oh My Cupcakes! got her start.
Things grew steadily from those humble beginnings, first moving into a downtown storefront location in 2010 (which was open only 8 am to 2 pm Monday-Saturday,) then moving to our flagship store in the Bridges at 57th in August of 2013. South Dakota has embraced Oh My Cupcakes! as a beloved and "home grown" enterprise, and along the way we've added a kiosk in the Empire Mall, a sister company called Oh My Word Paperie, and another standalone location on East Tenth Street. In August of 2019, we joyfully celebrated a decade of love and cupcakes in Sioux Falls. We can't wait to see what's next!
Our team of forty Cupcake Ninjas thrill at the opportunity to serve our guests each day and to create a flavor experience like no other, from first look to last, delicious crumb.
The Praise
Oh My Cupcakes!, their founder, and team have enjoyed some notable milestones and accolades along the cupcake journey:
In 2013, the Small Business Association named Oh My Cupcakes! "Woman-Owned Small Business of the Year." Oh My Cupcakes! has twice been named on the list of "Top 50 Cupcake Shops in America" (most recently taking the #19 spot) and is a Wedding Wire 5-Star rated business.
A community leader dedicated to making a difference in people's lives, Oh My Cupcakes! founder Melissa earned an award for Executive Leadership in EmBe's Tribute to Women awards in 2013 and has been a long-time mentor in the EmBe Women's Leadership Program.
In 2014, Oh My Cupcakes! long-term giving partnership with Children's Miracle Network and Cure Kids Cancer was celebrated with the naming of a room at the Sanford Children's Castle in honor of Oh My Cupcakes!
In 2017, South Dakota Secretary of State Shantel Krebs awarded Melissa and Oh My Cupcakes! with the Spirit of Entrepreneurship award.
Both Melissa and Operations Manager Amanda Feldkamp have been honored to be selected to participate in Leadership South Dakota, a program that seeks to build the next generation of South Dakota leaders.
Melissa is a sought-after keynote speaker and panelist at many professional gatherings and women's conferences.
In 2014, she wrote a book called Fingers in the Frosting, God's Hand on the Creation of Oh My Cupcakes!
In 2019, Melissa was nominated as Startup Champion with Hey, Sioux Falls, for her work in helping new entrepreneurs take the leap and reach for their dreams in the same way she once did.