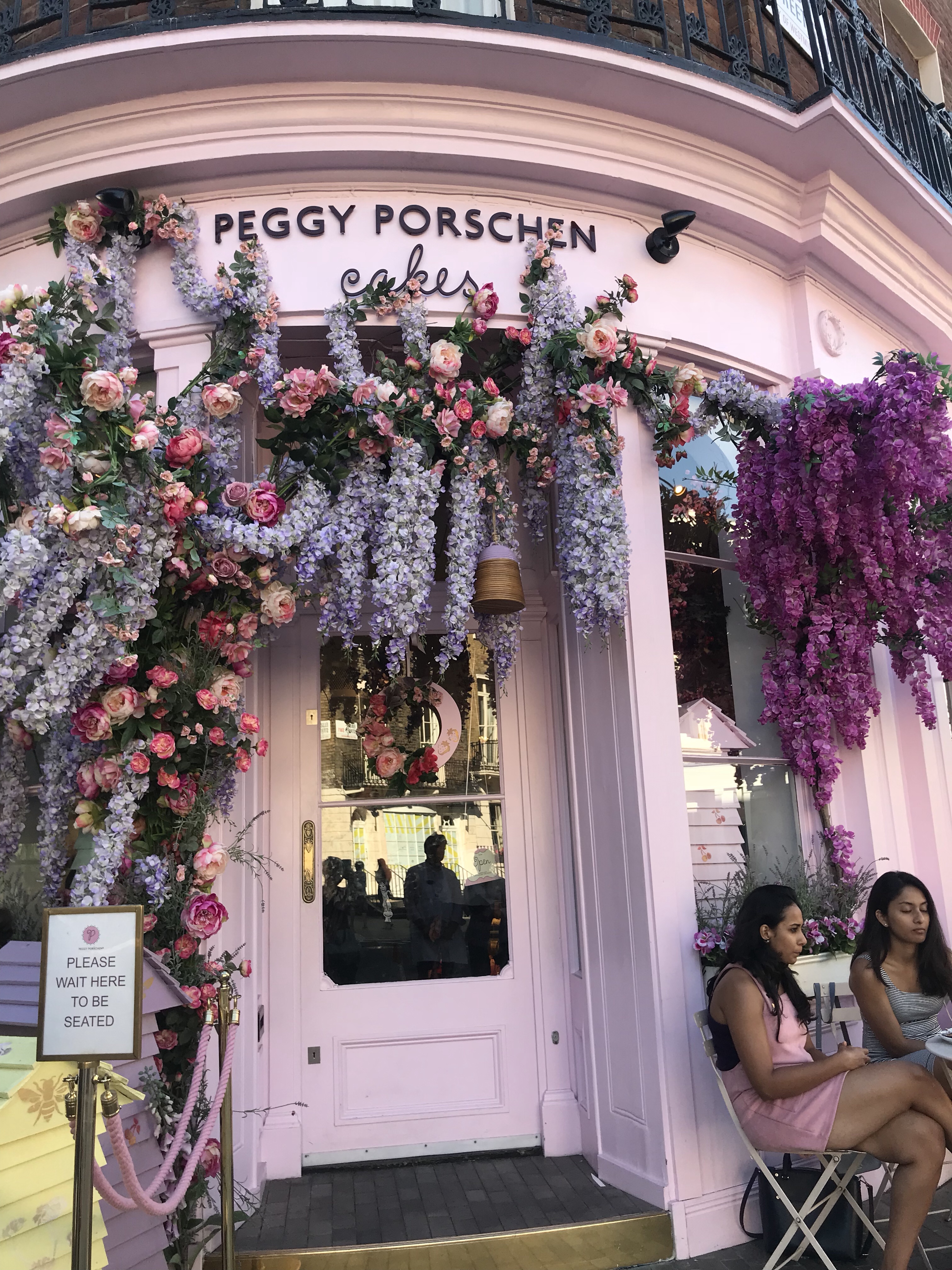 As we began our journey through Europe, there was no doubt where our first stop would be. Peggy Porschen Cakes in London has a reputation for their bespoke cakes and their love of all things beautiful. Wisteria floral cascades draped the top and the sides of the soft pink doorway, creating the perfect Insta moment for so many. In fact, the queue to snap the perfect photo was nearly as substantial as the queue to grab the perfect table. I admit, I was right there with everyone else.
Quaint white-painted metal tables and chairs lined the sidewalk, but in our desire to enjoy the full cakery experience, we decided to dine inside. Our wait for a table was quite reasonable at roughly fifteen minutes, during which time we stood aside repeatedly for those attempting that "just right" shot. (Smile! Wait, now point at the sign. Here, look up and tilt your chin to the right. That's it, have a look now!) We were obviously not the only ones who had been enchanted by Peggy Porchen long before arriving.
Once inside, the tiny store was blooming with flowers on nearly every surface. Tables were close enough to get exceptionally cozy with strangers, but no one seemed to mind. The chandeliers, the marble, and the filigree designs on the white woodwork were all straight out of a storybook. Note: the Brits love their florals, as you'll see in subsequent posts to come.
The Cupcakes and full-sized cakes posed proudly and beautifully in the open-backed glass case, with each flavor marked by a small descriptor sign similar to those we use at Oh My Cupcakes! They offered six flavors of cupcakes and several other sweet treats like macrons and pound cake. I chose a slice of the Strawberry Champagne cake. The sponge (the cake itself) was moist and flavorful, although I didn't catch too much actual champagne flavor. Strawberry jam between the layers ensured the cake did not become dry. The crumb was a little on the tougher side for a cake such as this, meaning it didn't fall apart and crumble. To be honest, that's just the way I prefer mine, so no complaints here.
The buttercream. For the love of all that is good and holy, where do I begin on the buttercream? From the appearance standpoint, the light to dark pink had a lovely ombré effect that denoted a strawberry flavor perfectly. It was so light, but had enough texture to it to be fully satisfying, and was not overly sweet. If I'm guessing, I'd bet it had to be Swiss Meringue buttercream for the way it left a velvety soft feeling on the tongue.
Amanda chose the Summer Berry cupcake. It was obvious that berries are in season as they were featured heavily in many bakery items all across London. The cake looked dark on top, which always leads me to believe the cake will be dry and over baked. That wasn't the case with this little summer beauty, however. It was moist, it sang a chorus of great berry flavors, and the little heart on top was a flavor syringe filled with berry compote. As you were enjoying the cupcake, it was to be lifted out of the sponge as you drizzled the compote on top of your pastry. Only one small thing; the pleasant server said the syringe was filled with chocolate, so it was a surprise to find the berry syrup. Still delicious, to be sure, it's just a good rule of thumb in life not to promise a woman chocolate if there's no chocolate to be had.
We also enjoyed a pot of tea for two which even poured pink, and it was served in adorable little pot so common at pastry shops in London. We lingered. We savored. We gazed around with curiosity and wonder. We took our share of photos, and the pleasant staff didn't make us feel like an inconvenience for doing so. Interestingly, our fellow guests didn't make us feel like an inconvenience either. (More on that later.)
The full-sized cakes were a lovely addition to the offerings. I loved that you can enjoy your own slice of heaven in addition to (or alongside) a cupcake.
Peggy Porschen Cakes was one of my most anticipated stops. It certainly did not disappoint. The servers were friendly, the customers were happy, and the pastry was top-notch in quality. It's hard to say at this point in the journey, but I may have been able to stop at Peggy's and forego some of the others! (It was that good.)
Side note: they also have the Peggy Porschen Academy, which is down a half a block from their retail store and which offers classes in creating cakes like Peggy's. It was closed for refurbishment (and perhaps for the summer) but seems like a GREAT place to go learn in the future.